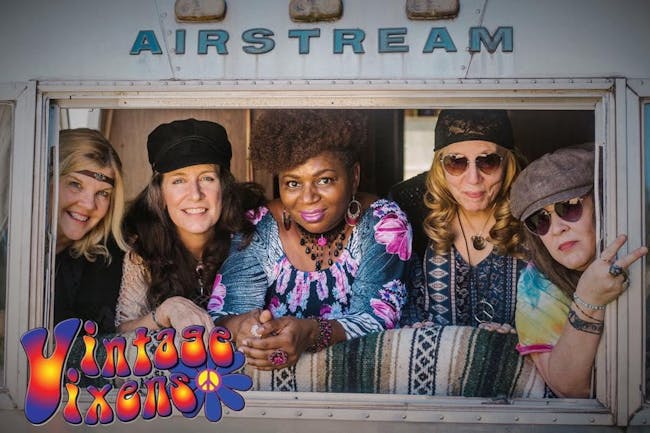 Vintage Vixens
2 Broke Kings
$20.00 - $24.50
Sales Ended
Vintage Vixens - 60's & 70's Groovy, Funky, Hippie Tribute w/ opener 2 Broke Kings feat. Ross Childress & Stephen Wines!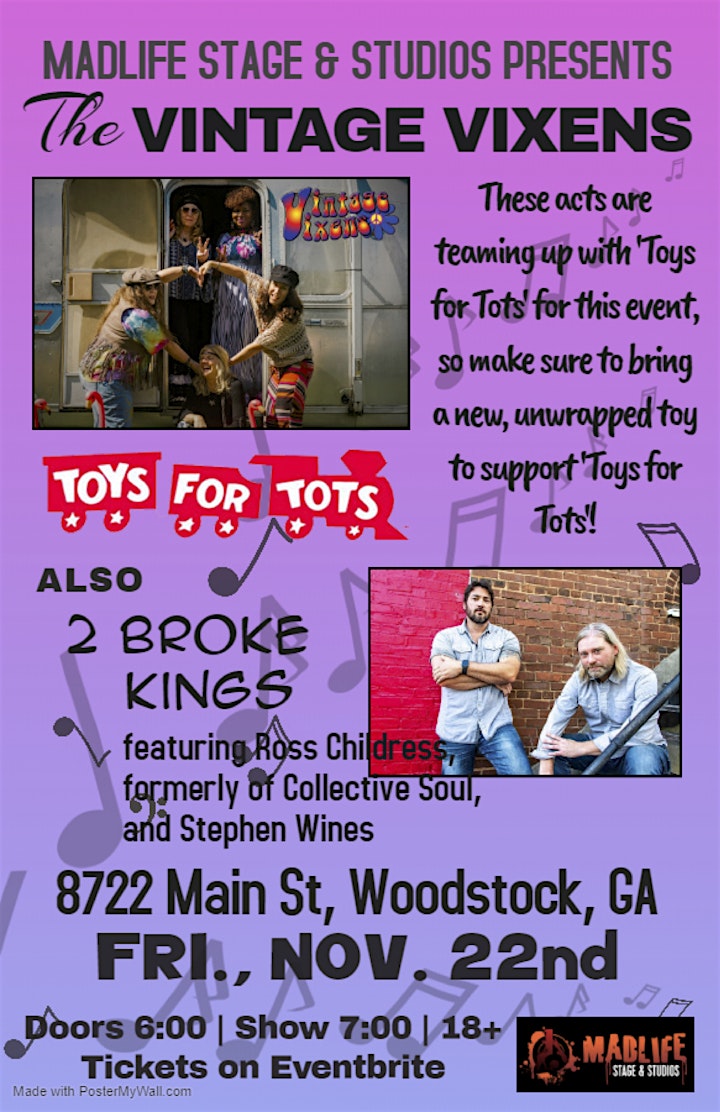 Sounds of the 60s and The Holiday Season!
Vintage Vixens are teaming up with 'Toys for Tots' for this event, so make sure to bring a new unwrapped toy to support 'Toys for Tots'!
Vintage Vixens - 60s & 70s Groovy, Funky, & Hippie Tribute
When a career booking agent with a love of the great sounds of the 60s picks up a bass guitar and learns to play all her favorite tunes, what happens? She surrounds herself with talented, like-minded, ladies and voila!! the Vintage Vixens are born! Rocking that retro sound, the all-female Vintage Vixens include Amy on guitar/vocals, Janet on keyboards, Carol on drums, Vanessa on lead vocals and Linda on bass. Talk about Flower Power!! Inspired by 60s fashion, on stage these ladies look like the music - groovy, funky, hippie! The Vintage Vixen playlist includes covers of the biggest hits from The Mamas & the Papas, Wilson Pickett, Beatles, Rolling Stones, The Drifters, Nancy Sinatra, Young Rascals,, CCR, Motown and more including some 70s favorites, too like Three Dog Night. Its a happy 60s hit fest of good time, sing along music! Peace, Love, and Vintage Vixens!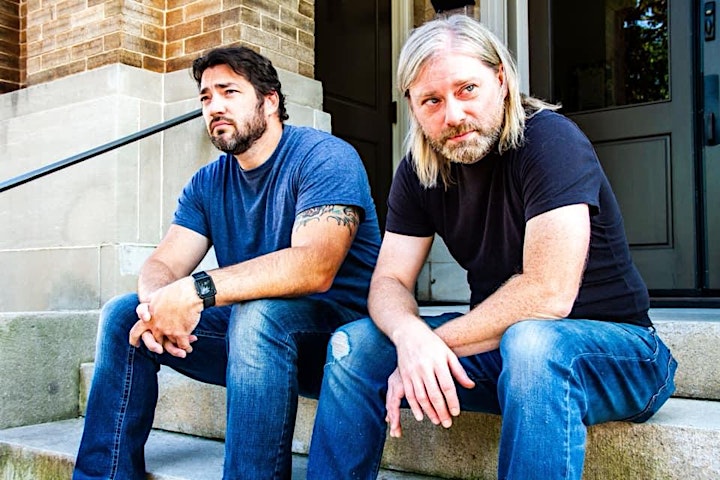 SUPPORT: 2 Broke Kings, feat. Ross Childress (Original Member of Collective Soul) and Stephen Wines
VENUE INFORMATION:
All ticket holders are able to order food and drinks during the event. Standing Room Ticket holders generally place their orders with the venue bar staff. Main Floor Reserved Table and VIP Balcony Table ticket holders are served by MadLife's friendly wait staff throughout the event.
Refer to the seating map below for a layout of the venue for this show. Please note the table arrangement is subject to change and not all tables may be available.
If You Wish To Select A Specific Reserved Table:
Holders of VIP Balcony and Main Floor Reserved Table tickets have the ability to select any available reserved table from the moment their tickets are purchased, up until 30 minutes BEFORE doors open to the event (i.e. if doors are at 6:30, cutoff time for selecting a reserved table would be at 6:00). Tables can be selected EITHER at the Box Office or by contacting the Box Office during its hours of operation at (678) 384-2363 ext. 1. Please note that tables cannot be selected online for this show and if you do not select a table, MadLife will select one for you. Selecting a table is not required, but is an option available.
For any wheelchair or ADA needs, please contact the Box Office in advance of the event at (678) 384-2363 ext. 1.
Please Note: Ticket Prices May Increase At Any Time
For any other questions regarding the event or tickets, please contact the Box Office during its hours of operation at (678) 384-2363 ext. 1.
Box Office hours of operation are Wednesday-Saturday 5:00 PM - 9:00 PM.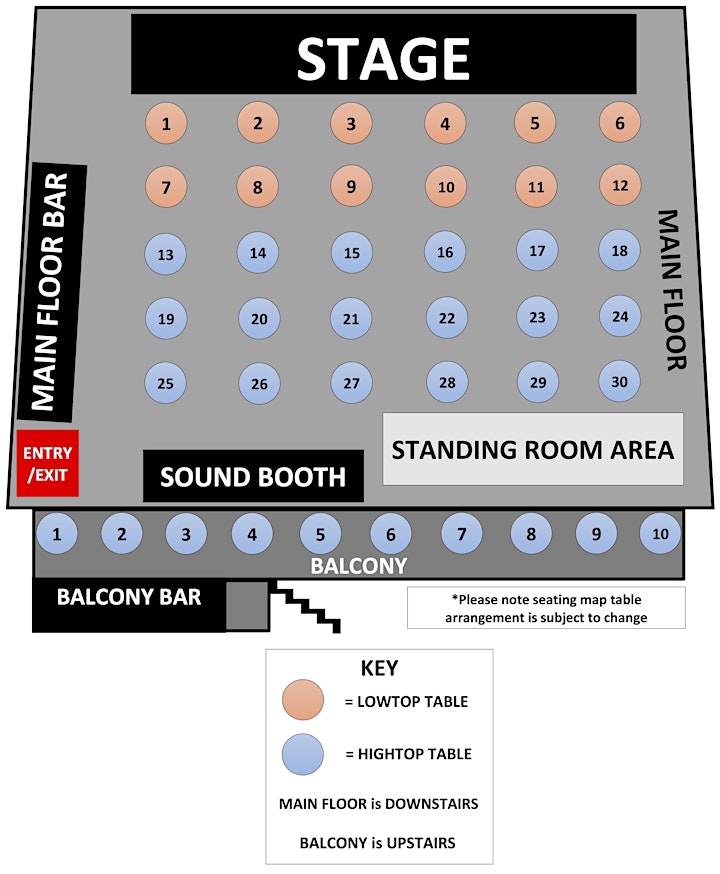 Venue Information:
MadLife Stage & Studios
8722 Main St
Woodstock, GA, 30188