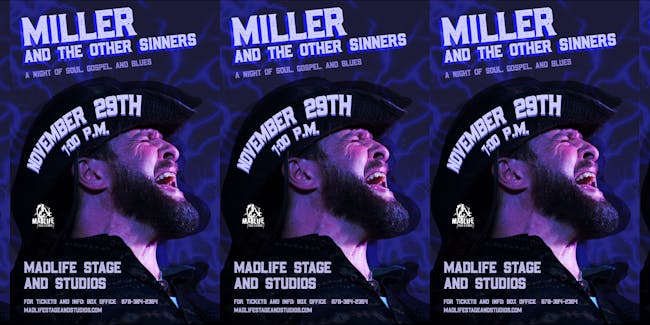 with Special Guest Darick Campell
Miller and The Other Sinners
Darick Campbell
$17.50 - $22.50
Sales Ended
Miller and The Other Sinners - A Night of Soul and Blues with Special Guest Darick Campell - LIVE at MadLife Stage & Studios!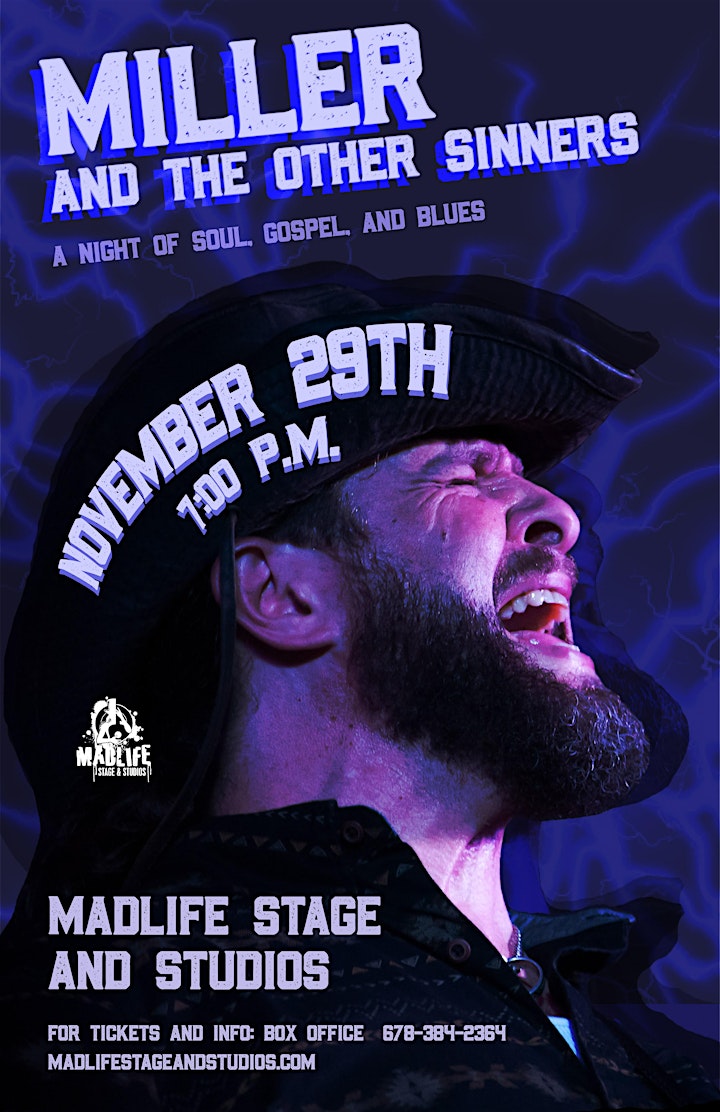 Miller & The Other Sinners
WEBSITE | FACEBOOK | TWITTER | YOUTUBE | SPOTIFY
Miller and The Other Sinners is a nationally touring Southern Soul band from Buffalo, NY, bringing a blend of gut bucket delta grit, memphis soul, gospel spirit and funky rhythm and blues. Think Tedeschi Trucks Band meets Chris Stapleton with a side of funky jam band. Since starting touring in August of 2015 they have performed over 750 shows across 18 states and two countries, from house parties to festivals. Whether its David Miller solo, or all the way up to the 9 piece band, Miller and The Other Sinners has an unforgettable show filled with infectious grooves and tremendous musicianship all supporting well written songs that really connect.
David Michael Miller, founder, lead vocalist, guitarist and songwriter for Miller and The Other Sinners, is a well established musician in the Western New York (WNY) music scene. Raised on gospel and radio, David loved the sounds of soul music from an early age and began writing playing and writing music as a child. His music was kept mainly in the church until he was in his 30's and began playing blues and soul music around WNY in area clubs and dives. For 6 years he fronted the band, Dive House Union (DHU) which recorded two live albums, one in the prestigious Kleinhan's Music Hall in Buffalo, NY and one in the historic Aurora Theater, in East Aurora, NY. David has shared the stage with artists such as Tedeschi Trucks Band, Steve Miller Band, Joe Bonamassa, Jonny Lang, Gary Clark Jr., Bobby Blue Bland, Jimmie Vaughan, Shemekia Copeland, Lowest of the Low and many others.
David represented the WNY Blues Society in 2013 and 2014 at the International Blues Challenge in Memphis in both the Band and Solo/Duo categories. He continues to participate in the Blues in the Schools program in Western New York. In 2013, 2014, 2015, 2016, and 2017, he was presented with the best Male Blues Vocalist Award by Buffalo's Night Life Magazine and in 2015 was presented with the Arts Services Institute award for "Artist of the Year."
David's has built on the successful independent release of his first solo album in 2014, Poisons Sipped, which landed in the the top 25 Blues Rock Albums of 2014 on the Roots Music Report. His sophomore album, Same Soil, debuted at #11 the second week of July on the RMR Blues chart and then climbed to #3 with two songs in the top 50 Blues songs played worldwide on radio and internet radio. In early 2017 he released a live album of his band, Miller and The Other Sinners, title, "3 Nights At The Strand."
With his band, Miller and The Other Sinners, David rocked stages at festivals nationwide such as Muskiest 2016/17, Telluride Blues and Brews Festival 2016 w/Isaac Aragon, Silver City Blues Festival 2016 and the Boots, Brews and Bacon Festival 2016, The Lilac Festival, Fairport Music Festival (22016/17/18), Borderland Music Festival (2019) and venues such as Madlife Stage & Studios (Atlanta), The Tralf Music Hall (Buffalo), Pittsburgh Winery, Bourbon Street Boogies & Blues Club (Nashville) and many many more.
When not playing solo, David is accompanied by a killer core of "Other Sinners" often including members of the world renown Campbell Brothers, and several other talented touring musicians. Though often seen on the road as a 4/5 piece, they do expand to a 9 piece or more for larger events, including a horn section, backup singers and keyboards.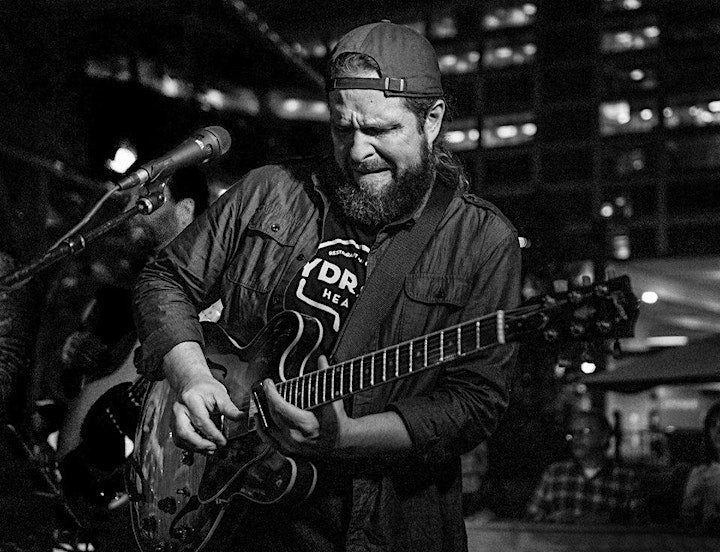 David Michael Miller
Since he was very young and singing in church, music has always been a big part of David's life. After learning guitar at age 11, he quickly began writing songs. Throughout his high school and college days, David was in several bands, did an internship in Nashville and married his high school sweetheart to begin a family. After taking a break from music for a few years, David began leading music in church services and through that started a Seattle influenced rock band called Painted by Moses. This band released an EP and then after a full album on an independent label which unknown to the band, was in hot rotation on gospel music and college stations around the country. Shortly after this, David took a break from performing music as he started his own IT business but rediscovered his blues and gospel influences during this time also developed his love for soul music. He then formed the roots music band, Beautiful Bones, with his 16 year old son on drums, nephew on bass, Jim Ehinger on keys and several other talented local musicians. This lead him to joining up with The Todd Eberwine Band that became Dive House Union, a root music jam band having released two live albums to date and that he still plays out with mostly in the Buffalo, NY area. He has garnished several local awards for his vocals, and with both Beautiful Bones and Dive House Union, has had the privilege of sharing the stage with artists such as Joe Bonamassa, Steve Miller Band, Tedeschi Trucks Band, Rusted Root, Jonny Lang, Gary Clark Jr., Bobby Blue Bland, Jimmie Vaughan, Shemekia Copeland, Eric Gales, Walter Trout, and many more.
In early 2013 David had solicited the help of producer, Jesse Miller, to record songwriter album. Then after losing his job in May of 2013, David made the decision to pursue his passion for music against many odds, finish the album and see where it goes. This where the story of Miller and The Other Sinners begins. Known for his soulful voice, passionate guitar playing (electric, acoustic, and slide), and mature song writing, David is the leader and fuel for the Sinner's engine.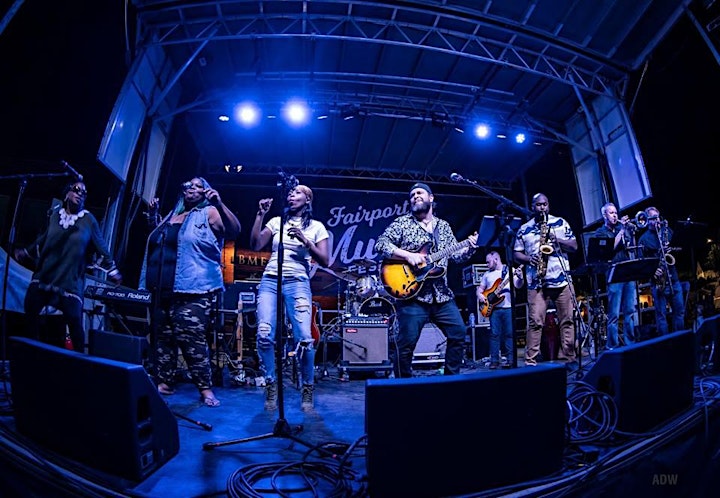 SPECIAL GUEST: Darick Campell
Chuck's brother Darick Campbell first made his mark in music as a drummer. For several years Darick was the premier drummer of the General Assembly, the National Convocation of the House Of God Church in Nashville, TN. His choice of the Lap Steel is a reflection of the influences he has blended to become the most emotional player of The Campbell Brothers musical tour d'force.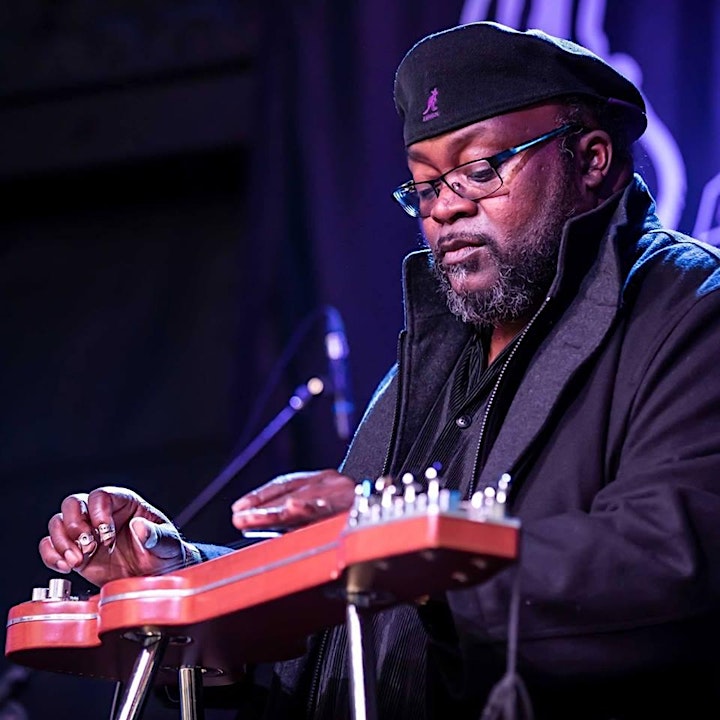 VENUE INFORMATION:
All ticket holders are able to order food and drinks during the event. Standing Room Ticket holders generally place their orders with the venue bar staff. Main Floor Reserved Table and VIP Balcony Table ticket holders are served by MadLife's friendly wait staff throughout the event.
Refer to the seating map below for a layout of the venue for this show. Please note the table arrangement is subject to change and not all tables may be available.
If You Wish To Select A Specific Reserved Table:
Holders of VIP Balcony and Main Floor Reserved Table tickets have the ability to select any available reserved table from the moment their tickets are purchased, up until 30 minutes BEFORE doors open to the event (i.e. if doors are at 6:30, cutoff time for selecting a reserved table would be at 6:00). Tables can be selected EITHER at the Box Office or by contacting the Box Office during its hours of operation at (678) 384-2363 ext. 1. Please note that tables cannot be selected online for this show and if you do not select a table, MadLife will select one for you. Selecting a table is not required, but is an option available.
For any wheelchair or ADA needs, please contact the Box Office in advance of the event at (678) 384-2363 ext. 1.
Please Note: Ticket Prices May Increase At Any Time
For any other questions regarding the event or tickets, please contact the Box Office during its hours of operation at (678) 384-2363 ext. 1.
Box Office hours of operation are Wednesday-Saturday 5:00 PM - 9:00 PM.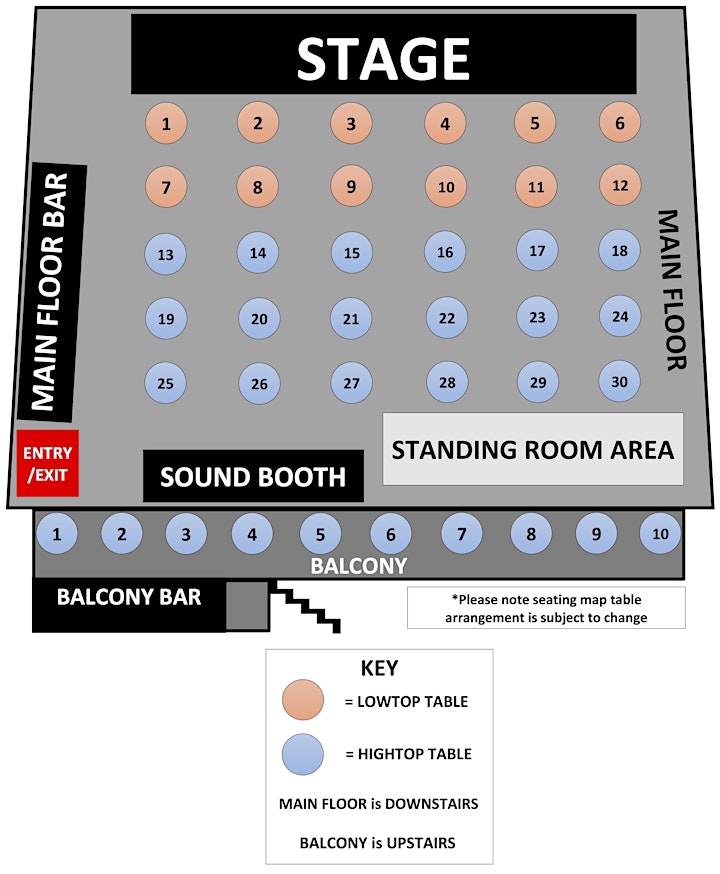 Venue Information:
MadLife Stage & Studios
8722 Main St
Woodstock, GA, 30188