A Celebration of Ray Charles presented by Adam Wakefield Band
$20.00 - $30.00
Sales Ended
A Celebration of Ray Charles presented by Adam Wakefield Band - LIVE at MadLife Stage & Studios!
Adam Wakefield
WEBSITE | FACEBOOK | INSTAGRAM | TWITTER
Wakefield is that rare singer and songwriter who can bridge the personal and the universal, who can sadly laugh and softly ache through an uncommonly poetic lyric and performance. What accounts for his achievement? Maybe we should start at the place where he grew up, a small college town in the care of parents whose example encouraged him to imagine and explore.
"Even though they were poor, they were very educated and liberal. My mom worked for labor unions, helping coal miners and stuff like that. And she was a strong feminist, which is one reason I don't write bro-country songs — she would disown me," Wakefield says, with a laugh.
Instead, he absorbed deeper lessons, through frequent travels with his family as well as the lure of expressing himself through music. "Pretty much all we had were records and a piano and a crappy Chevy van," he says. "I started playing the piano because I thought I could do it better than the girls who did it in show-and-tell."
Turns out he could, to the extent that after high school he earned admission to the Jazz and Contemporary Arts program at New School in New York City. But as he sharpened his technique and deepened his understanding of music theory, Wakefield began to feel restless.
So he dropped out and moved with his brother John to Baltimore. They started their own band, Old Man Brown, and over the next several years toured up and down the East Coast as well as twice in United Kingdom. They released two albums, the first settling into a Southern rock vibe with Johnny Neel of the Allman Brothers producing. The second veered more toward soul and even a bro-soul focus, complete with horn section and backup singers.
As their popularity grew, Wakefield stepped up his output of original songs, not so much to pursue excellence as a writer, more to simply have something the band could play other than covers."But I got better at it, the writing as well as the singing," he says. "I attribute that to this routine we had in our band house. Everybody had to put five hours a week into individual practicing. We'd keep track of what we did with this schedule on the fridge. Band rehearsals were every night, Monday through Friday, with Monday night reserved for showing everybody what we had been working on. For young kids, we were strangely responsible."
Wakefield decided to try his luck in Nashville. He and his girlfriend, an aspiring country singer, drove into town in their van. He formed a bluegrass group, started writing more seriously and made ends meet by painting houses. Opportunity struck when a scout for The Voice heard him play at Soulshine Pizza and invited him to audition. By the time he made it to the finals of Season 10, America had gotten the word about who Adam Wakefield is and what he has to offer.
Working independently, he hit the top of the iTunes chart with "Lonesome, Broken and Blue," the original song he performed during the season finale for The Voice. He also aced one of Nashville's most challenging gigs when the SteelDrivers asked him to sit in for their lead singer Gary Nichols, who was taking some time off. "Honestly, it made me a better singer," he insists. "And it helped me write better too. A few of songs on Gods and Ghosts come from that period. One of their songs, 'Peacemaker,' specifically inspired the droning lick I put at the beginning of 'Shoot Me Where I Stand.'"
All of these experiences — on the road, in the studio, in writing rooms and on national TV — play into Wakefield's artistry. "I'm not saying I've had a hard life," he says. "But when I write songs about somebody dying or trying to get sober, these are experiences I've had. The more you wear your heart on your sleeve as a writer, the better the tunes seem to turn out. That's what John Prine, Jamey Johnson and people in that vein do. That's where I want to go with what I do."
VENUE INFORMATION:
All ticket holders are able to order food and drinks during the event. Standing Room Ticket holders generally place their orders with the venue bar staff. Main Floor Reserved Table and VIP Balcony Table ticket holders are served by MadLife's friendly wait staff throughout the event.
Refer to the seating map below for a layout of the venue for this show. Please note the table arrangement is subject to change and not all tables may be available.
If You Wish To Select A Specific Reserved Table:
Holders of VIP Balcony and Main Floor Reserved Table tickets have the ability to select any available reserved table from the moment their tickets are purchased, up until 30 minutes BEFORE doors open to the event (i.e. if doors are at 6:30, cutoff time for selecting a reserved table would be at 6:00). Tables can be selected EITHER at the Box Office or by contacting the Box Office during its hours of operation at (678) 384-2363 ext. 1. Please note that tables cannot be selected online for this show and if you do not select a table, MadLife will select one for you. Selecting a table is not required, but is an option available.
For any wheelchair or ADA needs, please contact the Box Office in advance of the event at (678) 384-2363 ext. 1.
Please Note: Ticket Prices May Increase At Any Time
For any other questions regarding the event or tickets, please contact the Box Office during its hours of operation at (678) 384-2363 ext. 1.
Box Office hours of operation are Wednesday-Saturday 5:00 PM - 9:00 PM.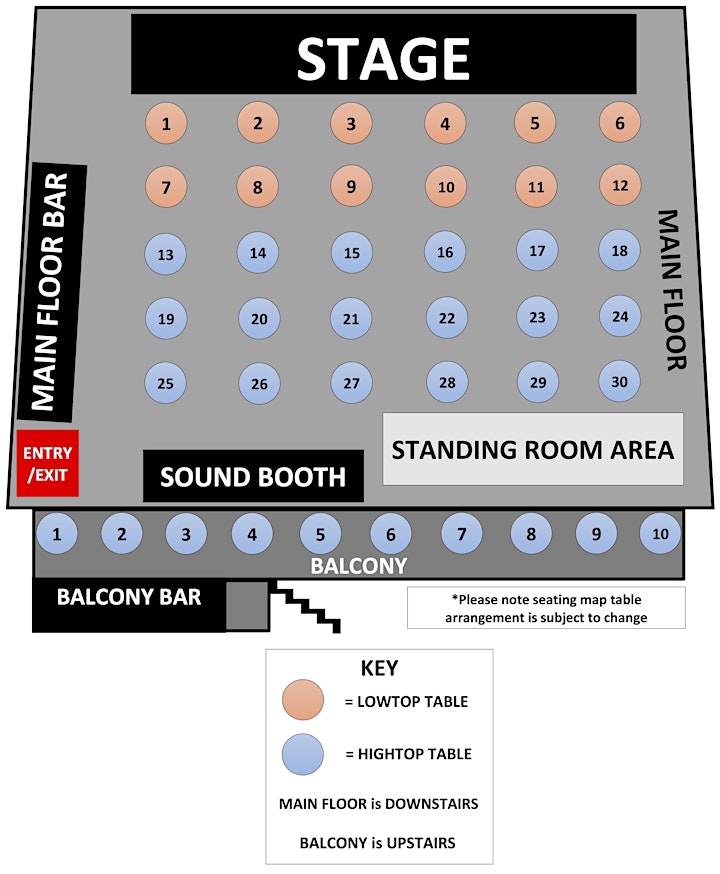 Venue Information:
MadLife Stage & Studios
8722 Main St
Woodstock, GA, 30188