Produced by Liquid Coast Films and MadLife Stage & Studios
Undiscovered: Sneak Preview / Special Screening Party
Join us on Nov. 30th to celebrate the launch of "Undiscovered," MadLife's first on-demand TV series!
Undiscovered: Sneak Preview / Special Screening Party
WEBSITE | FACEBOOK | INSTAGRAM | TWITTER
Join us on Nov. 30th to celebrate the launch of "Undiscovered," MadLife's first on-demand TV series! We've teamed up with award-winning filmmaker Kris Wheeler to create Season 1 — seven, talent-packed episodes, showcasing an inspiring lineup of extraordinary indie artists, their music and their stories.
The Special Screening Party starts at 12:30 PM on November 30th in MadLife's venue. Meet and mingle with the artists, then sit back and enjoy a cinematic experience as the Sneak Preview plays out on MadLife's big screen!
A very limited number of tickets to the Undiscovered Special Screening Party are available to the public, so secure your tickets today.
We hope to see you there! In the meantime, enjoy this teaser video!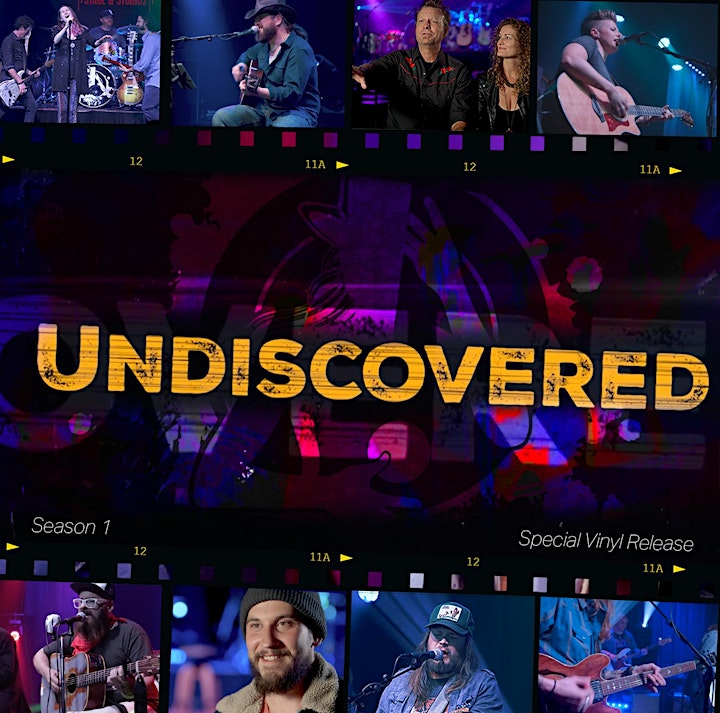 ARTIST BIOS
Adam Wakefield
Wakefield is that rare singer and songwriter who can bridge the personal and the universal, who can sadly laugh and softly ache through an uncommonly poetic lyric and performance. What accounts for his achievement? Maybe we should start at the place where he grew up, a small college town in the care of parents whose example encouraged him to imagine and explore.
"Even though they were poor, they were very educated and liberal. My mom worked for labor unions, helping coal miners and stuff like that. And she was a strong feminist, which is one reason I don't write bro-country songs — she would disown me," Wakefield says, with a laugh.
Instead, he absorbed deeper lessons, through frequent travels with his family as well as the lure of expressing himself through music. "Pretty much all we had were records and a piano and a crappy Chevy van," he says. "I started playing the piano because I thought I could do it better than the girls who did it in show-and-tell."
Turns out he could, to the extent that after high school he earned admission to the Jazz and Contemporary Arts program at New School in New York City. But as he sharpened his technique and deepened his understanding of music theory, Wakefield began to feel restless.
So he dropped out and moved with his brother John to Baltimore. They started their own band, Old Man Brown, and over the next several years toured up and down the East Coast as well as twice in United Kingdom. They released two albums, the first settling into a Southern rock vibe with Johnny Neel of the Allman Brothers producing. The second veered more toward soul and even a bro-soul focus, complete with horn section and backup singers.
As their popularity grew, Wakefield stepped up his output of original songs, not so much to pursue excellence as a writer, more to simply have something the band could play other than covers."But I got better at it, the writing as well as the singing," he says. "I attribute that to this routine we had in our band house. Everybody had to put five hours a week into individual practicing. We'd keep track of what we did with this schedule on the fridge. Band rehearsals were every night, Monday through Friday, with Monday night reserved for showing everybody what we had been working on. For young kids, we were strangely responsible."
Wakefield decided to try his luck in Nashville. He and his girlfriend, an aspiring country singer, drove into town in their van. He formed a bluegrass group, started writing more seriously and made ends meet by painting houses. Opportunity struck when a scout for The Voice heard him play at Soulshine Pizza and invited him to audition. By the time he made it to the finals of Season 10, America had gotten the word about who Adam Wakefield is and what he has to offer.
Working independently, he hit the top of the iTunes chart with "Lonesome, Broken and Blue," the original song he performed during the season finale for The Voice. He also aced one of Nashville's most challenging gigs when the SteelDrivers asked him to sit in for their lead singer Gary Nichols, who was taking some time off. "Honestly, it made me a better singer," he insists. "And it helped me write better too. A few of songs on Gods and Ghosts come from that period. One of their songs, 'Peacemaker,' specifically inspired the droning lick I put at the beginning of 'Shoot Me Where I Stand.'"
All of these experiences — on the road, in the studio, in writing rooms and on national TV — play into Wakefield's artistry. "I'm not saying I've had a hard life," he says. "But when I write songs about somebody dying or trying to get sober, these are experiences I've had. The more you wear your heart on your sleeve as a writer, the better the tunes seem to turn out. That's what John Prine, Jamey Johnson and people in that vein do. That's where I want to go with what I do."
Angie Aparo
Angie Aparo is the song writing talent behind Faith Hill's Grammy award winning, multi platinum song 'Cry'. Aparo's songwriting credits have also appeared on the albums of Miley Cyrus, Big & Rich and Tim McGraw.
Aparo was signed by Clive Davis (Arista records) in 2000, releasing 'The American' which led to Aparo supporting a U.S. tour and sharing the stage with the likes of Matchbox 20, Faith Hill and Edwin McCain.
In 2005 Angie Aparo appeared on Faith Hill's NBC Thanksgiving Special singing 'Cry' with Hill and catching the attention of producer Dann Huff (Keith Urban, Rascal Flatts). Huff would go on to produce Aparo's 2006 release, El Primero Del Tres.
Aparo penned two songs on Tim McGraw's 2012 release 'Emotional Traffic', namely; 'The One' and 'Only Human' (which Mcgraw recorded as a duet with R&B artist, Ne-Yo).
Also in 2012, Aparo appeared on Zac Brown's live album/DVD 'Pass the Jar' and was featured on a duet with Brown on the song 'Junk Yard' (Atlanta Fox Theater) Aparo's last album, 'Life is a Flower; Life is a Gun' is out now.
Currently, a documentary is in production to tell the story of Aparo's stroke and recovery (2016). New audio album will accompany the documentary release.
Dave Miller
Raised on gospel and radio, as a singer/songwriter/guitarist, David Michael Miller blends the angst of blues, attitude of rock, sexy of soul and storytelling of country into a blend he calls "southern soul". Although he's been playing music as a side passion for over 20 years, in 2013, Miller made a decision to make it his primary pursuit. Since 2014, Miller has been playing solo, solo/duo and up to 10 piece band shows with his project, Miller and The Other Sinners, across 21 states, 2 countries, 250,000+ miles of road and over 900 shows. He's opened for such talent as The Steve Miller Band, Joe Bonamassa, Tedeschi Trucks Band, Gary Clark Jr and Eric Gales, and shared festival stages with Jon Oates, The Revivalists, Gov't Mule, Mavis Staples, The Campbell Brothers and Anders Osborne. Miller and The Other Sinners has lit up festival stages such as Borderland, Muzikfest, Telluride Blues and Brews, Fairport, Lilac, Blues in the Bay, Silver City Blues and many more. Along the way Miller has released three self produced albums, "Poisons Sipped", "Same Soil", and "3 Nights at the Strand", reaching as high as #3 on the Roots Music Report. Buffalo Night-Life Magazine has named Miller, "Best Blues Male Vocalist" for the past 6 years straight, also being awarded "Artist of the Year" by Arts Services Institute of WNY in 2015.
Recently sponsored as a national ambassador by Neil Giraldo's company, Three Chord Bourbon, Miller is reaching new markets and festivals, bringing his brand of southern soul and "sinning boldly". Look for David Michael Miller / Miller and The Other Sinners in your area soon!
Debra Lynn Rodriguez
Folk-rocker with a heaping helping of Appalachian Soul, Debra Lynn Rodriguez draws from a deep well of musical tradition as a singer and songwriter. Hers is an authentic voice that delivers powerfully and passionately each and every time she takes the stage. Audiences are immediately drawn to Debra Lynn's energy on stage and the richness of her voice. She leans heavily on and pays homage to her musical roots of blues, gospel, folk, and rock and roll to create a sound that is genuinely her own.
Last Chance Riders
Fronted by a soulful powerhouse vocal, captivating guitar hooks and face melting leads, Last Chance Riders delivers a timeless rock 'n roll, high-octane performance backed by an explosive rhythm section.
Inspired by The Allman Brothers Band, Led Zeppelin, The Rolling Stones, AC/DC, Janis Joplin and David Bowie - the Last Chance Riders have a broad blend of influences that result in a unique sound that is their own. The band plays original music and stays busy constantly writing new material.
Self-financed, the band went into Sonica Studios with award winning producer John Briglevich, to put together eight songs including the single, "Downright Disgusted," which ties together common themes of the album with stories of hardship and endurance. Inspirational lyrics, passionate players and an unrelenting drive has brought The Last Chance Riders to the forefront of the Atlanta music scene.
Surrender Hill
Separately, Salmon and Seekins are strong, sharp-voiced musicians, with songs inspired by their colorful and unusual backgrounds. Together, they're something bigger: a soulful, countrified duo whose music nods not only to America's rural pockets, but also to the world at large. Appropriately, the group takes its name from the real-life Surrender Hill in South Africa, where the Anglo-Boer War came to a close. After all, this a band of songwriters who've fought their own battles and suffered their own scars, only to surrender to — and find peace with — each other.
Tyler Lee Frush
Tyler Lee Frush is a self taught musician equally at home writing songs by a bonfire as he is jamming out on stage downtown. Moved after listening to The Man in Black's Hurt, Frush picked up a guitar in 2006 and never looked back. Picking up the art from watching Eddie Van Halen videos, he truly is a humble talent from humble origins. In only a short time, Tyler managed to create what some call a wholly unique and simultaneously familiar sound. Using primarily only a guitar, and his voice. Frush is constantly wiring and pushing his boundaries and his own expectations to further his craft. Taking influence from musical talents such as Bon Iver, Kings of Leon, Wolfmother, and Muse for writing inspiration and of course, Van Halen as his foundation for learning guitar, Frush has weaved a sound that sounds damn good flowing out your window while driving through the north Georgia mountains. Don'y forget to see the real deal live.
VENUE INFORMATION:
All ticket holders are able to order food and drinks during the event. Ticket holders who are sitting at the bar generally place their orders with the venue bar staff. Ticket holders who are sitting at a table are served by MadLife's friendly wait staff throughout the event.
Refer to the seating map below for a layout of the venue for this show. Please note the table arrangement is subject to change and not all tables may be available.
For any wheelchair or ADA needs, please contact the Box Office in advance of the event at (678) 384-2363 ext. 1.
For any other questions regarding the event or tickets, please contact the Box Office during its hours of operation at (678) 384-2363 ext. 1.
Box Office hours of operation are Wednesday-Saturday 5:00 PM - 9:00 PM.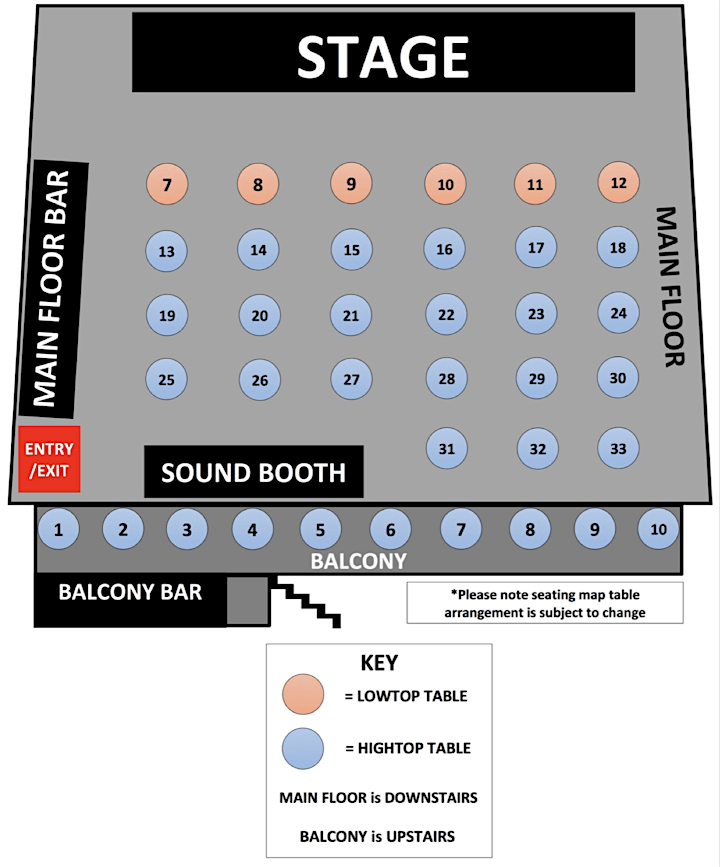 Venue Information:
MadLife Stage & Studios
8722 Main St
Woodstock, GA, 30188