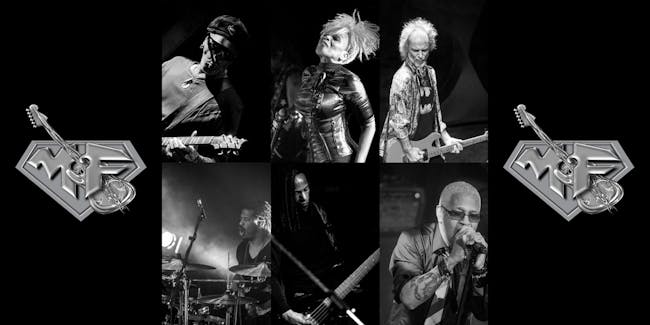 Standing Room Tickets Remaining! Limited Tables Available for THU Shows!
Mother's Finest - Tables Sold Out - Standing Room Tickets Available!
$27.50 - $49.50
Sales Ended
Mother's Finest is an American funk rock band featuring a blend of funky rhythms, heavy rock guitars and expressive soul/R&B-style vocals!
Mother's Finest
WEBSITE | FACEBOOK | TWITTER | SPOTIFY
New album "Goody 2 Shoes & The Filthy Beast"
Music which goes straight to the gut and into your legs, which aims for your heart and soul and always finds its target: there can be no question that Mother's Finest are among the most energetic and charismatic rock groups on this planet. With their virtuoso vocalist Joyce Kennedy at the epicentre of their soundquake, a tight rhythm section which leaves nothing to be desired and masses of spirited guitar fusillades to make listeners go weak at the knees, this band has long made a name for itself in the annals of rock history. Their latest studio recording Goody Two Shoes & The Filthy Beast is soon scheduled for release.
This is the band's first studio recording since their 2003 release Meta-Funk'n-Physical. You'd be safe to refer to Goody Two Shoes & The Filthy Beast as an incomparable rock experience which can deservedly be labelled as an original.
Because, long before the Red Hot Chili Peppers & Living Colour there were the Mothers. Based in Atlanta, but hailing from a place of their own creation, they put Funk Rock Georgia on the world map and created the genre that fused funky, rock-solid grooves with an explosive power & high-energy, in-your-face-vocals. The bands earliest recognition came from the CBS albums, Another Mother Further (1977), Mother Factor (1978) and the much acclaimed Mother`s Finest Live (1979). These recordings yielded the iconic ´Baby Love`, ´Piece Of The Rock`, ´Love Changes`, ´Truth`ll Set You Free` and ´Mickeys Monkey`, that still reign as fan favorites.
In the seventies this musical hybrid signaled a new direction for the industry that was met with a fierce opposition not only from radio stations but the record companies themselves. Mothers Finest met this challenge head on, powered through and gave the fans the wall of sound they`d eagerly been searching for.
Though veterans of the music business & inductees into The Georgia Music Hall of Fame, if you are fortunate enough to catch them in concert you will not experience a band you would consider "old school" though you will get schooled by the raucous blend of high energy vocals, soulful modern grooves, funky rhythms & pure power! The sound is undeniably theirs and whether you have caught them live or were one of the 1 million + that witnessed their life-altering broadcast of the Rockpalast performance in Germany; you will keep coming back for more.
The current line-up includes vocalists Joyce Kennedy and Glenn Murdock, bassist Juan and guitarist Moses Mo, all four original members of the first line-up dating back to 1970. Guitarist John Hayes and drummer Dion Derek have proved to complement Mother's Finest perfectly since their comeback in 1989. This band has rocked for more than forty years and still sounds as if they had just undergone their first baptism of fire.
VENUE INFORMATION:
All ticket holders are able to order food and drinks during the event. Standing Room Ticket holders generally place their orders with the venue bar staff. Main Floor Reserved Table and VIP Balcony Table ticket holders are served by MadLife's friendly wait staff throughout the event.
Refer to the seating map below for a layout of the venue for this show. Please note the table arrangement is subject to change and not all tables may be available.
If You Wish To Select A Specific Reserved Table:
Holders of VIP Balcony and Main Floor Reserved Table tickets have the ability to select any available reserved table from the moment their tickets are purchased, up until 30 minutes BEFORE doors open to the event (i.e. if doors are at 6:30, cutoff time for selecting a reserved table would be at 6:00). Tables can be selected EITHER at the Box Office or by contacting the Box Office during its hours of operation at (678) 384-2363 ext. 1. Please note that tables cannot be selected online for this show and if you do not select a table, MadLife will select one for you. Selecting a table is not required, but is an option available.
For any wheelchair or ADA needs, please contact the Box Office in advance of the event at (678) 384-2363 ext. 1.
Please Note: Ticket Prices May Increase At Any Time
For any other questions regarding the event or tickets, please contact the Box Office during its hours of operation at (678) 384-2363 ext. 1.
Box Office hours of operation are Wednesday-Saturday 5:00 PM - 9:00 PM.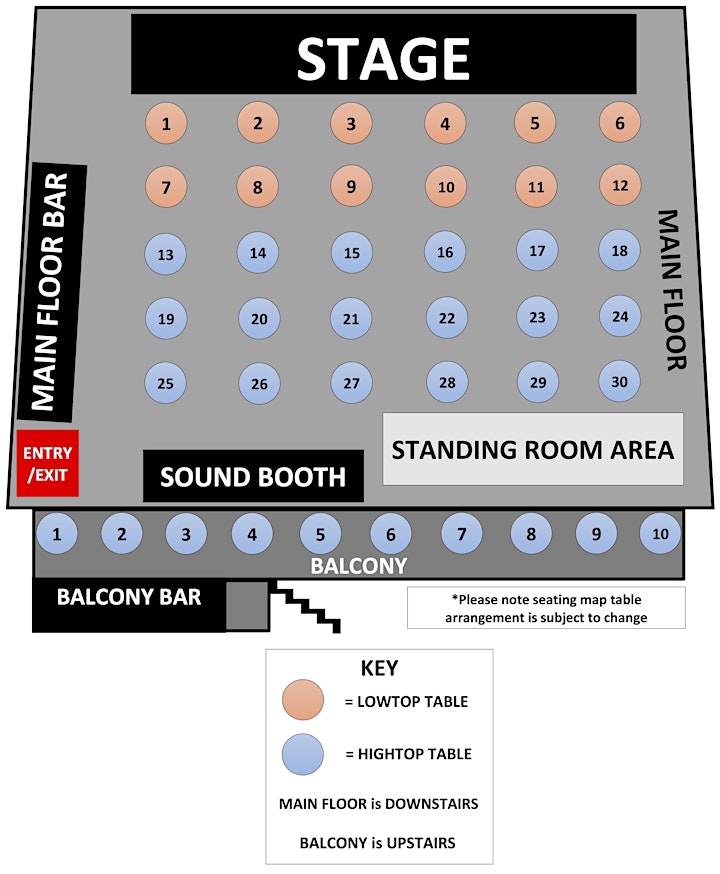 Venue Information:
MadLife Stage & Studios
8722 Main St
Woodstock, GA, 30188