Tables Sold Out! Tables for 9:55 show still available
Jesse James Dupree of Jackyl & Dixie Inc. / Special Guest Angie Lynn Carter
$22.50 - $29.50
Sales Ended
Jesse James Dupree is the lead singer, guitarist, and primary songwriter in the rock band Jackyl!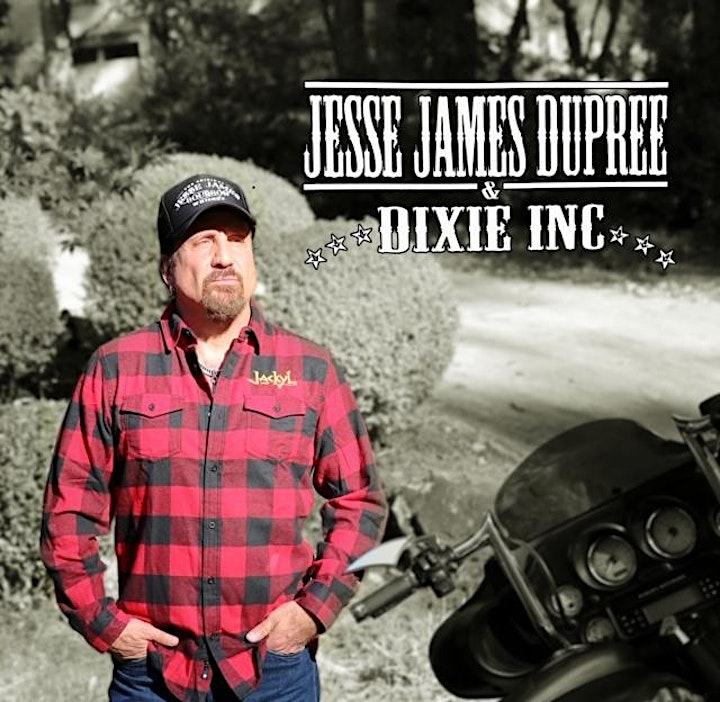 Jesse James Dupree (of Jackyl and Dixie Inc.)
WEBSITE | FACEBOOK | INSTAGRAM | TWITTER
Jesse James Dupree is an American musician, television personality, and businessman. Dupree is the lead singer, guitarist, and primary songwriter in the rock band Jackyl, founded in 1991. As a solo performer, he released albums in 2000 and 2008 under the names of "Jesse James Dupree" and "Jesse James Dupree & Dixie Inc.", respectively.
Jesse James Dupree is the lead singer and guitarist of the American Southern Rock band Jackyl from Kennesaw, Georgia. Formed in 1991, the band signed a recording contract with Geffen Records. In 1992, a self-titled debut album was released and went platinum; the band still tours heavily on the festival circuit, in music venues, and on TruTV's reality television series Full Throttle Saloon.
Dupree's most famous routine involves using a chainsaw as a musical instrument during the song "The Lumberjack" and "The Star Spangled Banner". His collection of customized instruments include an electric guitar with a chainsaw attached and an large customized chainsaw powered by a Dodge Hemi, engine.
In 2007, Dupree founded Mighty Loud Entertainment, a record label and artist management and marketing company.
With business partner, Michael Ballard, Dupree brought the Full Throttle Saloon television series [1] to the airwaves on TruTV in 2009. After five successful seasons with TruTV, the series was picked up by Reelz Channel; season premiere on October 3, 2014. Ballard and his wife, Angie, appear in each episode along with Dupree.
SUPPORT: Angie Lynn Carter
WEBSITE | FACEBOOK | INSTAGRAM | TWITTER
A small town girl with a big voice has made big waves in the music industry and for good reason! Angie has written and recorded 3 CD's and has opened for some of rock and country music's biggest artists. She was recently featured in Atlanta's #1 magazine, "Best Self Atlanta" and named one of "Atlanta's Rising Stars". Angie has received many accolades in the music industry, as well as being nominated by the Georgia Music Awards as Georgia Female Country Artist of the Year two years in a row. She has performed on Atlanta's number one morning show on NBC, "Atlanta & Company and has been selling out venues across the state. She and her Band have supported some of Country's and Rocks biggest acts and has become the go to band to support major shows in the Atlanta area. Angie just released an EP on Sony's digital label, The Orchard and her new single "GYPSY" has been put in rotation on Dallas McCade show on Kicks 101.5. Angie's passion for writing and performing is obvious on stage and always leaves her audiences wanting to hear more of her soulful, country southern rock voice.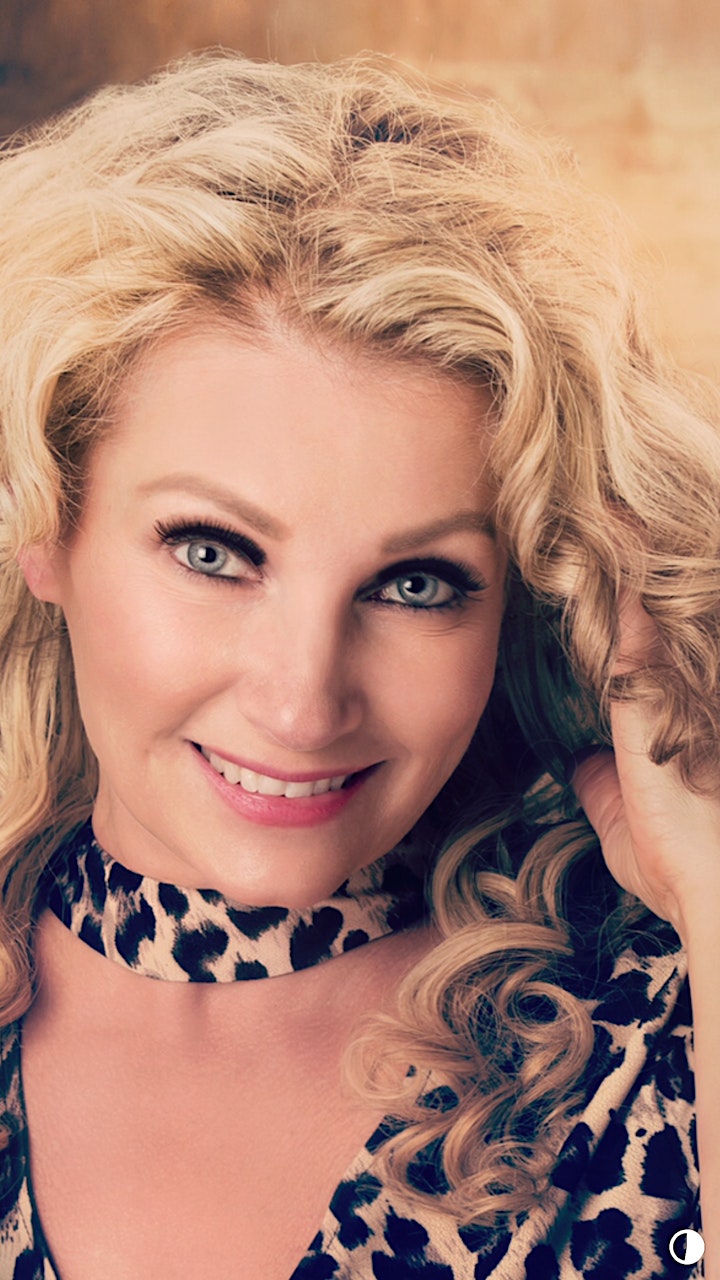 VENUE INFORMATION:
All ticket holders are able to order food and drinks during the event. Standing Room Ticket holders generally place their orders with the venue bar staff. Main Floor Reserved Table and VIP Balcony Table ticket holders are served by MadLife's friendly wait staff throughout the event.
Refer to the seating map below for a layout of the venue for this show. Please note the table arrangement is subject to change and not all tables may be available.
If You Wish To Select A Specific Reserved Table:
Holders of VIP Balcony and Main Floor Reserved Table tickets have the ability to select any available reserved table from the moment their tickets are purchased, up until 30 minutes BEFORE doors open to the event (i.e. if doors are at 6:30, cutoff time for selecting a reserved table would be at 6:00). Tables can be selected EITHER at the Box Office or by contacting the Box Office during its hours of operation at (678) 384-2363 ext. 1. Please note that tables cannot be selected online for this show and if you do not select a table, MadLife will select one for you. Selecting a table is not required, but is an option available.
For any wheelchair or ADA needs, please contact the Box Office in advance of the event at (678) 384-2363 ext. 1.
Please Note: Ticket Prices May Increase At Any Time
For any other questions regarding the event or tickets, please contact the Box Office during its hours of operation at (678) 384-2363 ext. 1.
Box Office hours of operation are Wednesday-Saturday 5:00 PM - 9:00 PM.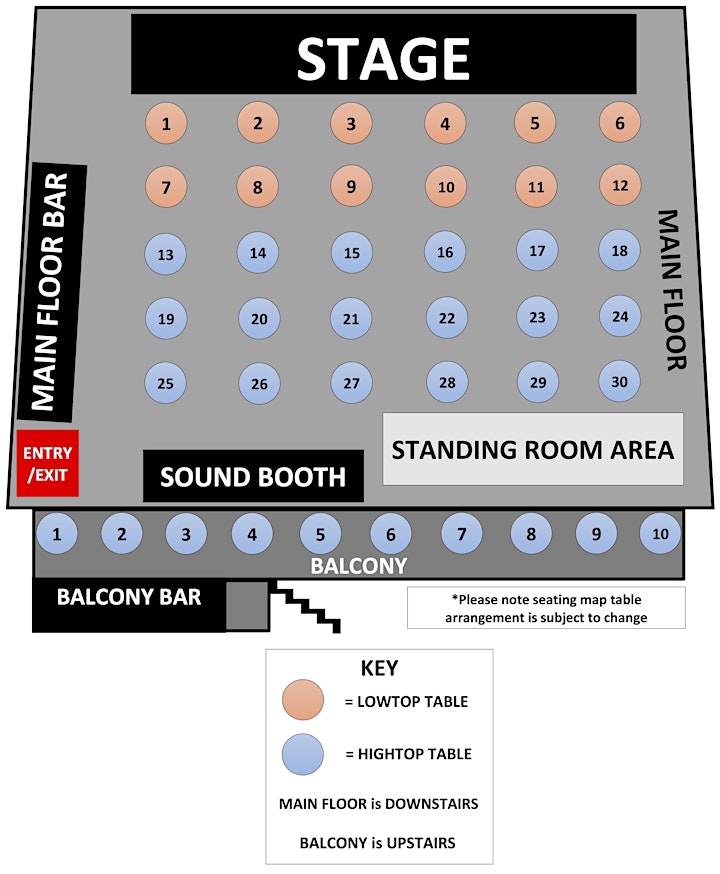 Venue Information:
MadLife Stage & Studios
8722 Main St
Woodstock, GA, 30188