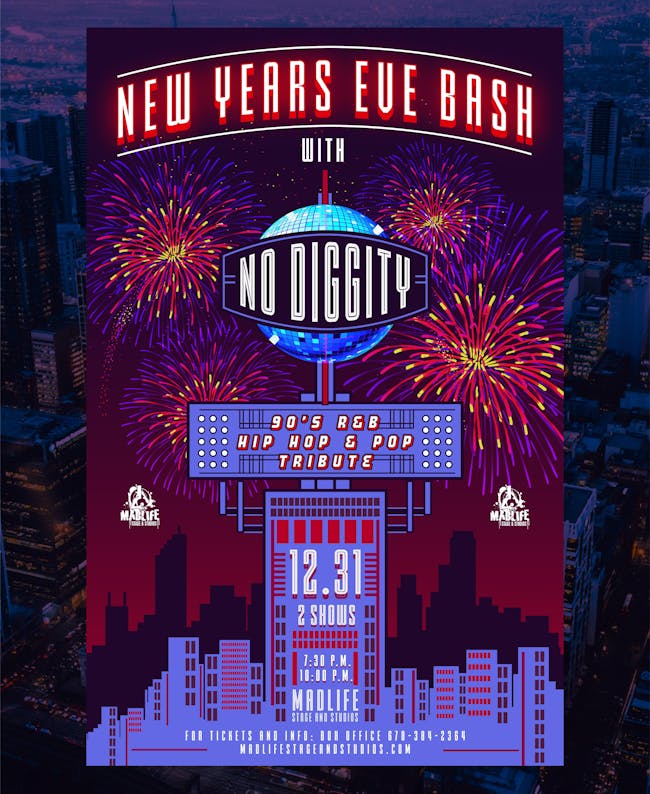 Tables Sold Out - Limited Standing Room Tickets Available!
Early New Year's Eve Bash featuring No Diggity! Approaching Sellout!
$30.00 - $39.50
Sales Ended
Early New Year's Eve Bash at MadLife Stage & Studios feat. No Diggity (90s R&B, Hip Hop & Pop Tribute) - LIVE at MadLife Stage & Studios!
No Diggity
The Golden Era Of Hip Hop Perfectly Paired with your favorite RnB and Pop from the 90s and Early 00s
No Diggity Band is hands-down the most exciting and talent-packed 90s-2000s Hip Hop, RnB and Pop Tribute and Party Band in the nation!
No Diggity delivers spot-on renditions of Snoop Dogg, Dr. Dre, Outkast, Fugees, 2Pac, Tribe Called Quest, Lauryn Hill, Notorious B.I.G., Warren G, Aaliyah, Mary j. Blige, Naughty By Nature, Eminem, Beyonce, Jay Z, Alicia Keys, Toni Braxton, The Roots, Erykah Badu, Missy Elliot, Usher, House of Pain with serious musical depth.
Barely a year old, No Diggity has already SOLD OUT all of their Atlanta area shows to date. An all-star packed group of talent, No Diggity's members have shared stages with Elton John, Pink, Jack Johnson, Bonnie Raitt, and more.
No Diggity curates a night of nonstop, pure fun and a party to remember by mixing, mashing and smashing some of their own versions of the classic 90s and early aughts jams!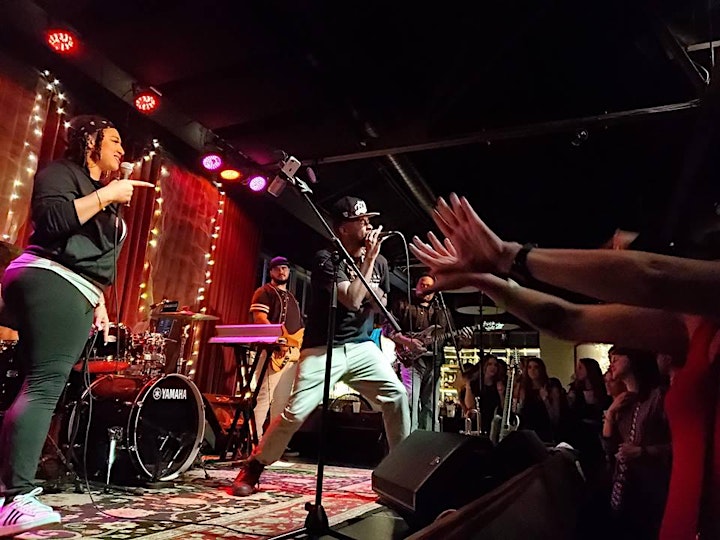 VENUE INFORMATION:
All ticket holders are able to order food and drinks during the event. Standing Room Ticket holders generally place their orders with the venue bar staff. Main Floor Reserved Table and VIP Balcony Table ticket holders are served by MadLife's friendly wait staff throughout the event.
Refer to the seating map below for a layout of the venue for this show. Please note the table arrangement is subject to change and not all tables may be available.
If You Wish To Select A Specific Reserved Table:
Holders of VIP Balcony and Main Floor Reserved Table tickets have the ability to select any available reserved table from the moment their tickets are purchased, up until 30 minutes BEFORE doors open to the event (i.e. if doors are at 6:30, cutoff time for selecting a reserved table would be at 6:00). Tables can be selected EITHER at the Box Office or by contacting the Box Office during its hours of operation at (678) 384-2363 ext. 1. Please note that tables cannot be selected online for this show and if you do not select a table, MadLife will select one for you. Selecting a table is not required, but is an option available.
For any wheelchair or ADA needs, please contact the Box Office in advance of the event at (678) 384-2363 ext. 1.
Please Note: Ticket Prices May Increase At Any Time
For any other questions regarding the event or tickets, please contact the Box Office during its hours of operation at (678) 384-2363 ext. 1.
Box Office hours of operation are Wednesday-Saturday 5:00 PM - 9:00 PM.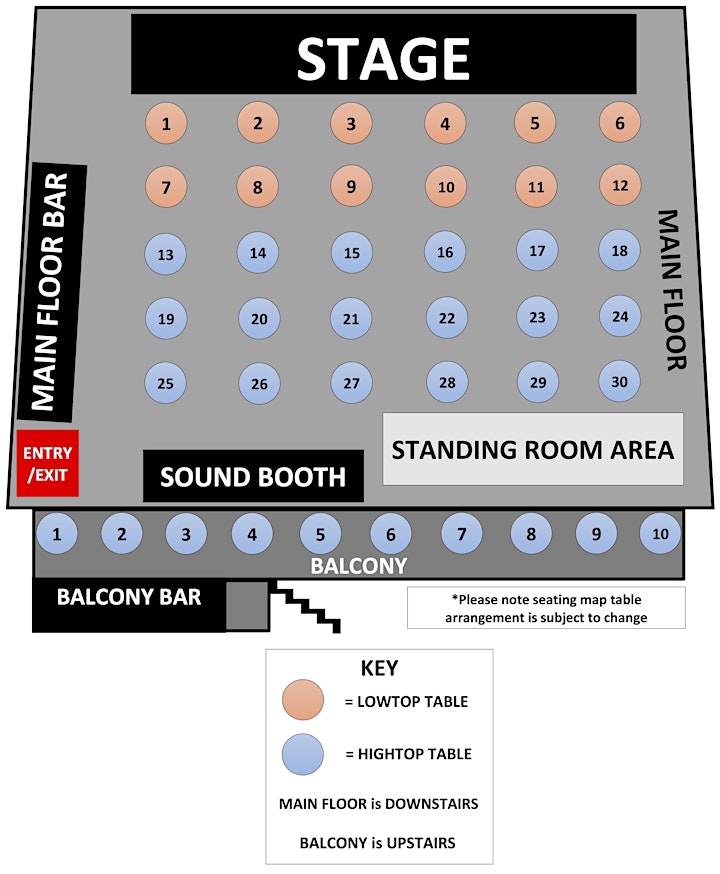 Venue Information:
MadLife Stage & Studios
8722 Main St
Woodstock, GA, 30188